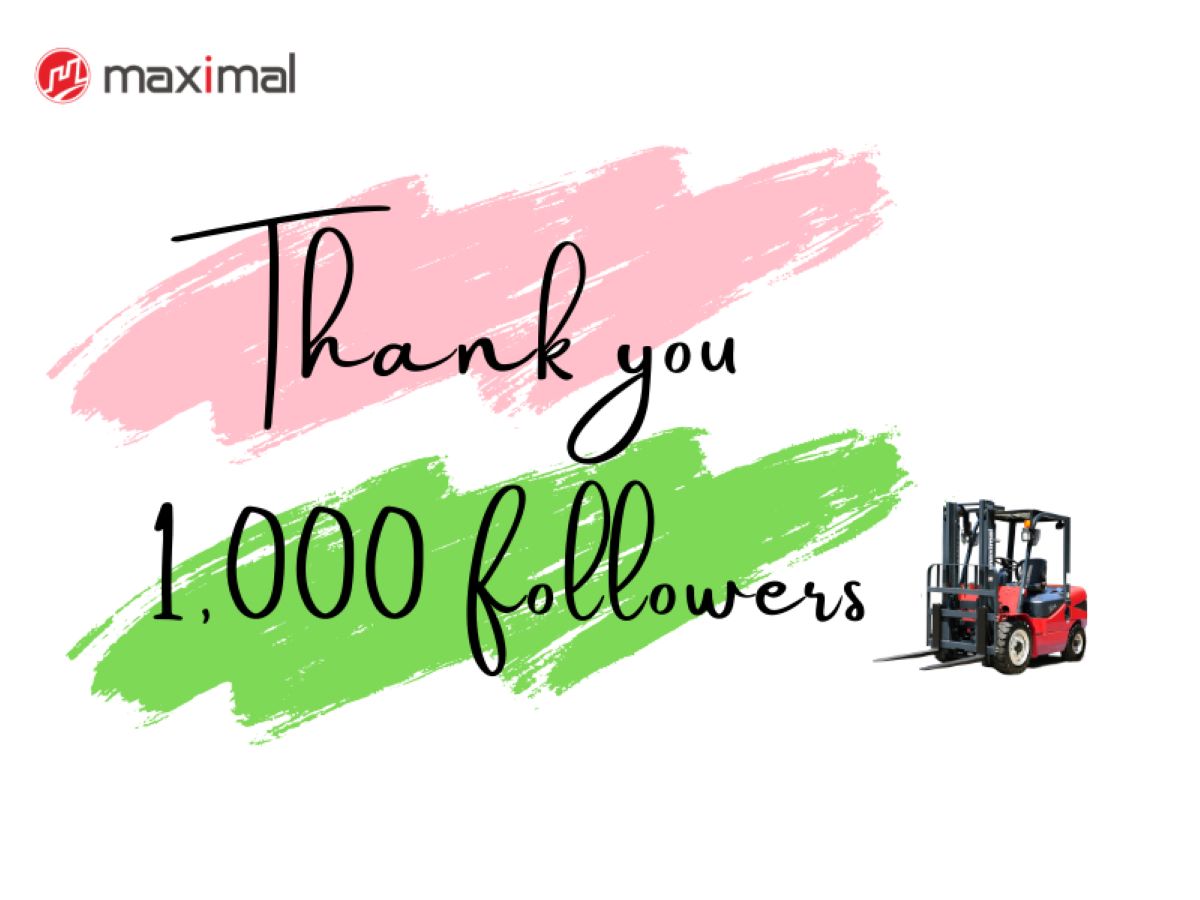 Reached 1000+ Followers on LinkedIn
Maximal are delighted to announce that we have reached 1,000 followers on LinkedIn in this early March. We are honored and delighted to see that so many stakeholders are following us and engaging actively with our posts on LinkedIn.
Thanks for those of you who are following our company's update and keep engaging with us to help our community flourish. We are looking forward to hitting another milestone soon.
Maximal Co-op Partner Attended the Big 5 Saudi
During 28-31 March, 2022, our co-op partner (Diesel Machinery Company Limited) attended The Big 5 Saudi held at Riyadh International Convention & Exhibition Center. Now in its 10th year, the exhibition once again brought together leading manufacturers and stakeholders to meet and connect the construction industry in Saudi Arabia. This trade show is a great chance for us to demonstrate how we can offer solutions to meet our customers' needs without compromising on ergonomics or total cost of ownership.
Maximal Co-op Partner Attended Textile Asia Faisalabad Trade Exhibition
Our co-op partner (S.M. Jaffer &Co) recently attended the Textile Asia Faisalabad Trade Exhibition held in Pakistan. The exhibition is the most promising and enduring biannual Textile Industry Show in Pakistan. Our partner activity introduced competitive Maximal product to the client. We hope more local clients know Maximal brand and contact us for further cooperation.
Advantages of Li-ion Battery Forklift for Electric Forklifts
Fast charging (2-3 hours) and enables continuous availability of operation, particularly efficient in multi-shift and extended applications

Opportunity charge without damage

Zero pollution & Safety: non-toxic, non-hazardous metals & completely sealed units mean no spills or emissions.

Virtually maintenance free and BMS to assure the safety running.

More energy efficiency than comparable lead-acid powered equipment

Low cost of ownership in the long-term operational budget

Long cycle Time
Comparison Performance (Li-ion Battery VS Lead Acid Battery)
Applications
The fast charging, long-life battery system fits general operations that includes breaks within and in-between shifts.

One set of li-ion battery can replace several conventional battery sets. Charging space can be released to increase storage room/production area, so that the client can improve the space utilization and reduce the maintenance cost.

The sealed battery design reduces the risk of chemical spillage found in conventional batteries, which is valuable for food and pharmaceutical industry applications.

In some industries, a single Li-ion battery can significantly reduce the downtime due to no battery changing, typically for multi-shifts environment.
Tips for Daily Maintenance of Li-ion Battery
Match the specialized li-ion charger

Use the right charging method

Keep the battery away from elevated temperature to avoid causing stress and changing capacity capabilities.

When the li-ion electric vehicle is not in use, the power should be turned off in time

Do not fully charge for long-term storage
Maximal now offers Li-ion battery system to the whole A series trucks from 1.5-3.5T. Please feel free to contact us for more product information.
Follow us:

LinkedIn:@Maxmial Forklift
Facebook: @ Maximal Forklift - Zhejiang Co.,Ltd.
WeChat: @MAXFORKLIFT