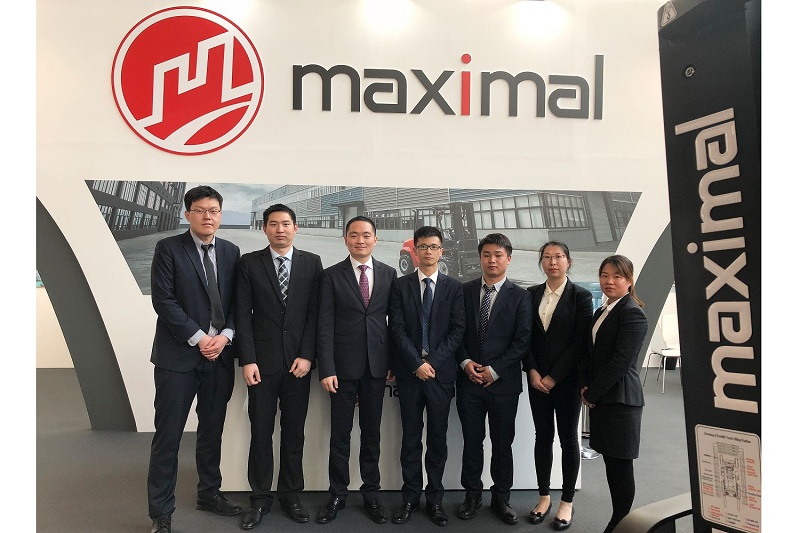 On 23-27 April 2018, the five-day CeMAT International Logistics Exhibition was held in Hannover, Germany. Maximal brought its classical models to the exhibition.
CeMat Hannover is the largest professional logistics equipment exhibition and a grand gathering for materials handling. There are around 7,500 enterprises from more than 70 countries and regions all over the world exhibit this year, welcomed an audience of 265,000 from 80 countries and regions. The theme of this CeMAT was Internet supply chain solution.
At Maximal booth, we have A series IC forklift, 3-wheel electric forklift, high performance 4-wheel electric forklift with dual drive motor and Compact 4WD rough terrain forklift. All the products displayed are the hot models in Maximal and Chinese forklift industry. They drew attention from various visitors from different countries and areas.
During this exhibition, Maximal received many dealers, we talked about the products and future develop plan. They all feel confident to the cooperation, Maximal is grateful for the support and encouragement of its partners over many years and will continue to keep our innovation for new products.
Storage Forklifts Information
Below are the Maximal storage forklifts to 20th Apr. for your reference.
(Note: storage forklifts information below is updated monthly while the stork information is changing time to time, so the real-time stock information subjects to sales men's feedback.)
No.

Model

Color

Quantity

Description

Remark

1

FD30T-M2WE3


Green

1

Engine:
Yanmar 98

Mast: TFM450

Fork: 1070mm

Solid tyre




2

FD50T-M1WI3

Green

1

Engine: MITSUBISHI S6S

Mast: TFM392

Fork: 1070mm

With sideshift

With auxiliary radiator

With vertical exhaust




3

FBT15-MJZE

Green

2

Controller:

Italy ZAPI

Mast: TFM750

Fork: 1150mm

With battery charger




4

FB15-AJZ

Green

1

Controller:

Italy ZAPI

Mast: M300

Fork: 1070mm



Chinese Forklift Truck Export Order Statistics Reference(Jan. to Apr. of 2018)
| | | | |
| --- | --- | --- | --- |
| | Electric | IC | Total |
| EUROPE | 1665 | 6771 | 8436 |
| AMERICA | 799 | 4337 | 5136 |
| ASIA | 1612 | 7242 | 8854 |
| AFRICA | 206 | 2800 | 3006 |
| OCEANIA | 190 | 1636 | 1826 |
| WORLD | 4472 | 22786 | 27258 |