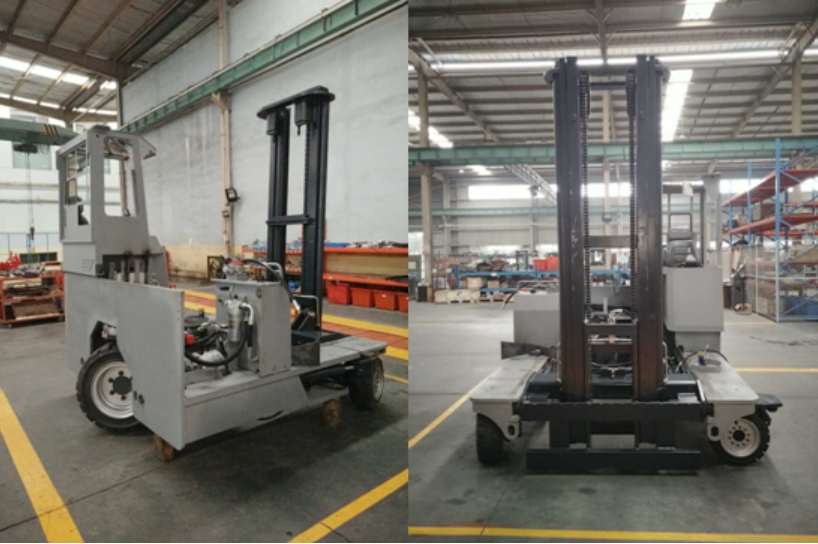 With the development strategy of "Doing optimal in traditional forklift, doing strong in special forklift", Maximal developed new product Side Loader forklift to meet market requirements.
Side loader forklift with its unique characteristics---do not need turn around first operation later, has significant advantages in the handling of long-size goods, widely used in narrow channel warehouse.
The first prototype is 4.0T model equipped with Deutz(EU Ⅳ) engine, it completely passed CE tests and got the CE certificates from SIQ. Maximal is further developing 3.5T and 4.5T models with Yanmar engine, as well as various types of mast. We will start to accept small orders from July.
Maximal dealer in Russia attended their exhibition locally this month with the side loader forklift, they gave the positive feedback to us.
Storage Forklifts Information
Below are the Maximal storage forklifts to 20th May. for your reference.
(Note: storage forklifts information below is updated monthly while the stork information is changing time to time, so the real-time stock information subjects to salesmen's feedback.)
No.

Model

Color

Quantity

Description

Remark

1

FD30T-M2WE3

Green

1

Engine:
Yanmar 98

Mast: TFM450

Fork: 1070mm

Solid tyre




2

FD50T-M1WI3

Green

1

Engine: MITSUBISHI S6S

Mast: TFM392

Fork: 1070mm

With sideshift

With auxiliary radiator

With vertical exhaust




3

FBT15-MJZE

Green

2

Controller:

Italy ZAPI

Mast: TFM750

Fork: 1150mm

With battery charger






FB15-AJZ

Green

1

Controller:

Italy ZAPI

Mast: M300

Fork: 1070mm



Chinese Forklift Truck Export Order Statistics Reference (Jan. to May of 2018)
| | | | |
| --- | --- | --- | --- |
| | Electric | IC | Total |
| EUROPE | 2043 | 8325 | 10368 |
| AMERICA | 942 | 5387 | 6329 |
| ASIA | 2055 | 9023 | 11078 |
| AFRICA | 327 | 3782 | 4109 |
| OCEANIA | 273 | 1976 | 2249 |
| WORLD | 5640 | 28493 | 34133 |