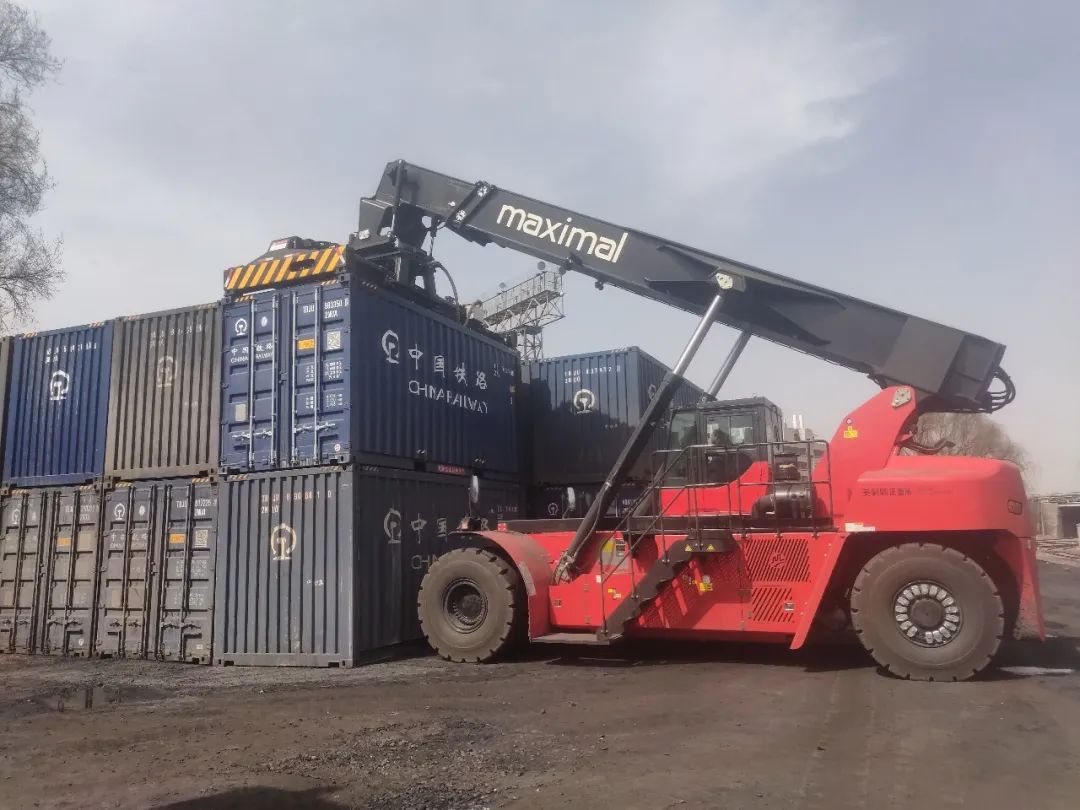 Maximal Reach Stacker Buyer Show

The Maximal 45ton reach stacker has withstood rigorous on-site tests in the past six years, and users highly recognize this product.
Why chooses Maximal reach stacker?
Maximal new generation container reach stacker is jointly designed by Hyster's Dutch factory and Chinese factory. It has significant advantages such as high operating efficiency, safety and reliability, flexible and comfortable operation, good design and low noise.
The client has high requirement for the use of logistics equipment, which requires stable performance and safety to meet the railway freight station work application.
The Maximal 45ton reach stacker is ergonomically designed with a high-visibility cab to easily achieve higher productivity. The driver can precisely load control and be satisfied with the critical engine performance. The spacious cab provides the driver with optimum comfort and all-round visibility in demanding applications and extreme weather conditions.
Bi-weekly Internal Training: Maximal Electrification Forklift
Electrification forklift is with ICE forklift chassis but with electric power set. It combines the advantages of ICE trucks such as strong power and high level of waterproof and that of electric forklift such as no emission.
Traditional excitation motor has relatively lower efficiency and higher energy consumption, along with its lower level of water / dust protection, it is not applicable to severe working conditions but only good indoor ones.
With the engine emission upgrade in Europe and the US, EUV engine for Europe and EPA certified Tire IV engine for North America is a must which increased the cost of ownership to users. It gave rise to electrification forklift as an economical alternative for both indoor and outdoor working conditions.
To make it simply, as the below photo shows:
Maximal AX Series Electrification Forklift has several advantages:
1. High efficiency PMS motor and controller system provides up to 95% working efficiency and reduces comprehensive energy consumption by 20%.
2. Mature and tested structure design is ideal for indoor and outdoor working conditions.
3. Li-ion battery with automatic heating function ensures timely temperature recovery during discharge and before charging.
Company Activity in March: International Women's Day



Women should not be defined. We believe that every woman can do a great job in her position. On 8th March, we prepared a gift for each female staff at the office to celebrate the International Women's Day.