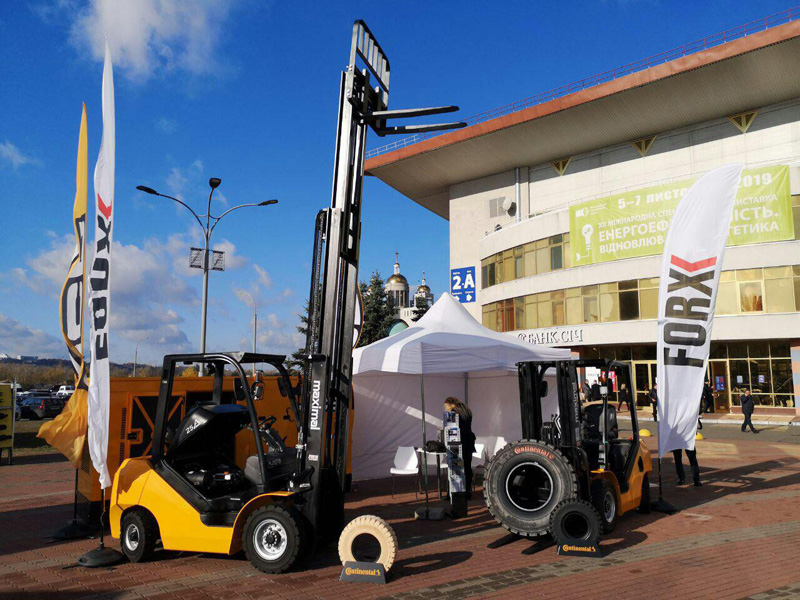 In early Novembre, Maximal dealers from Ukraine brought Maximal forklifts and attended their local exhibition called "TECHNOCOMMUNEXPO" for show. It is held for Ukrainian Customers from Ukrainian suppliers showing foreign techniques, so as suppliers from other countries rather close to Ukraine. On the exhibition, Maximal forklift seems like a beautiful landscape. The Ukraine dealer is satisfied with our products, try their best to expand the market locally. We sincerely wish them could catch a good performance, and would like to support dealers as far as we can.
Maximal will attend China (UAE) Trade Fair 2019
These days, Maximal is preparing for the Trade Fair in Dubai, detailed information as follows. Welcome all friends to visit our booth in Dubai.
China (UAE) Trade Fair 2019

Time:December 17-19th, 2019
Place:Sheikh Saeed Hall 1, Dubai International Convention & Exhibition Centre.
Address: Sheikh Zayed Road, Trade Centre Roundabout P.O. Box 9292 Dubai UAE

Chinese Forklift Truck Export Order Statistics Reference (Jan. to Oct. 2019)
| | | | |
| --- | --- | --- | --- |
| | Electric | IC | Total |
| | 4397 | 14297 | 18694 |
| AMERICA | 1859 | 8361 | 10220 |
| ASIA | 4050 | 14494 | 18544 |
| AFRICA | 666 | 4387 | 5053 |
| OCEANIA | 747 | 3102 | 3849 |
| WORLD | 11719 | 44641 | 56360 |