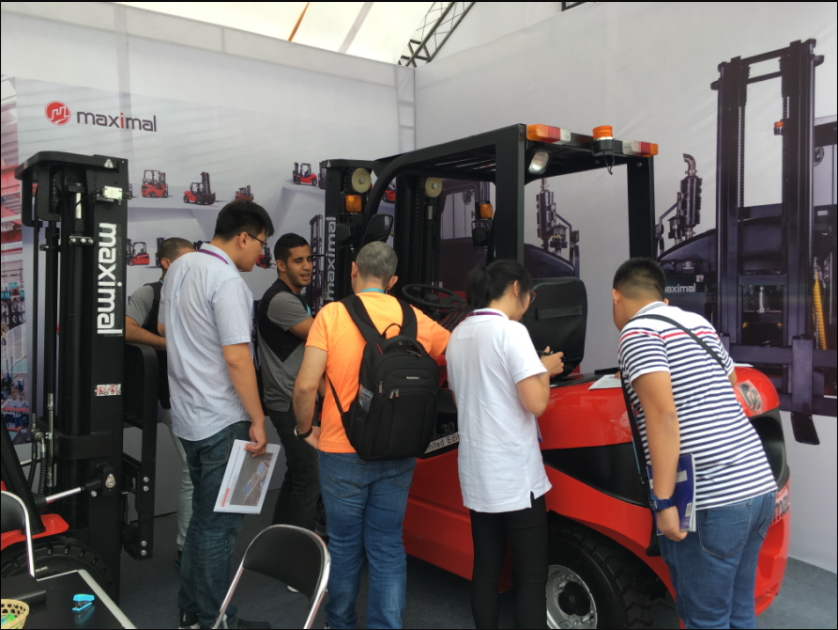 The 124th Autumn Canton Fair is drawing to a close, Maximal forklift sales team bring diesel forklifts, electric forklifts and rough terrain forklifts for exhibition at booth 5.0C 09-10.
Through this exhibition, Maximal forklift shows not only the competitive products, but also the professional and excellent service. Customers who interest on our products steadily increased, proves Maximal products get more and more well-known and worth your trust year by year. Maximal sales at the booth warmly show batches of customers around to know about our classical products, some customers attracted by our products and sit down for further consult, some even play orders at the scene.
With a history of more than 10 years, Maximal products got highly praised from more and more customers, popular welcomed at home and abroad. We fully appreciate for all friends' visits, the great harvest of this exhibition makes us feel confidence in the future global market possession, we will listen carefully to the end-users'voices and devotes to produce more competitive products to meet customers'needs.

Argentina dealer attended Expo Logisti-K Exhibition
Maximal dealer in Argentina attended Expo Logisti-K exhibition on September 18-21, it's the 13th International exhibition of equipment, technology and solutions for logistics, flow of information and supply chain.
During the exhibition, Argentina dealer demonstrated Maximal A series electric forklifts, M series diesel forklifts and reach trucks, many customers were impressed by these products and showed great interests on them. Maximal sincerely welcome all friends from the world to visit our local partners for further cooperation.
Storage Forklifts Information
Below are the Maximal storage forklifts to 20th Oct. for your reference.
(Note: storage forklifts information below is updated monthly while the stork information is changing time to time, so the real-time stock information subjects to salesmen's feedback.)
No.

Model

Color

Quantity

Description

Remark

1

FD30T-M2WE3

Green

1

Engine: Yanmar 98

Mast: TFM450

Fork: 1070mm

Solid tyre




2

FD50T-M1WI3

Green

1

Engine: MITSUBISHI S6S

Mast: TFM392

With sideshift




3

FBT15-MJZE

Green

2

Controller:

Italy ZAPI

Mast: TFM750

Fork: 1150mm

With battery charger




4

FB15-AJZ

Green

1

Controller:

Italy ZAPI Mast: M300

Fork: 1070mm



Chinese Forklift Truck Export Order Statistics Reference (Jan. to Sep. of 2018)
| | | | |
| --- | --- | --- | --- |
| | Electric | IC | Total |
| EUROPE | 3459 | 14366 | 17825 |
| AMERICA | 1736 | 8839 | 10575 |
| ASIA | 3778 | 13905 | 17683 |
| AFRICA | 626 | 6359 | 6985 |
| OCEANIA | 609 | 3764 | 4373 |
| WORLD | 10208 | 47233 | 57441 |