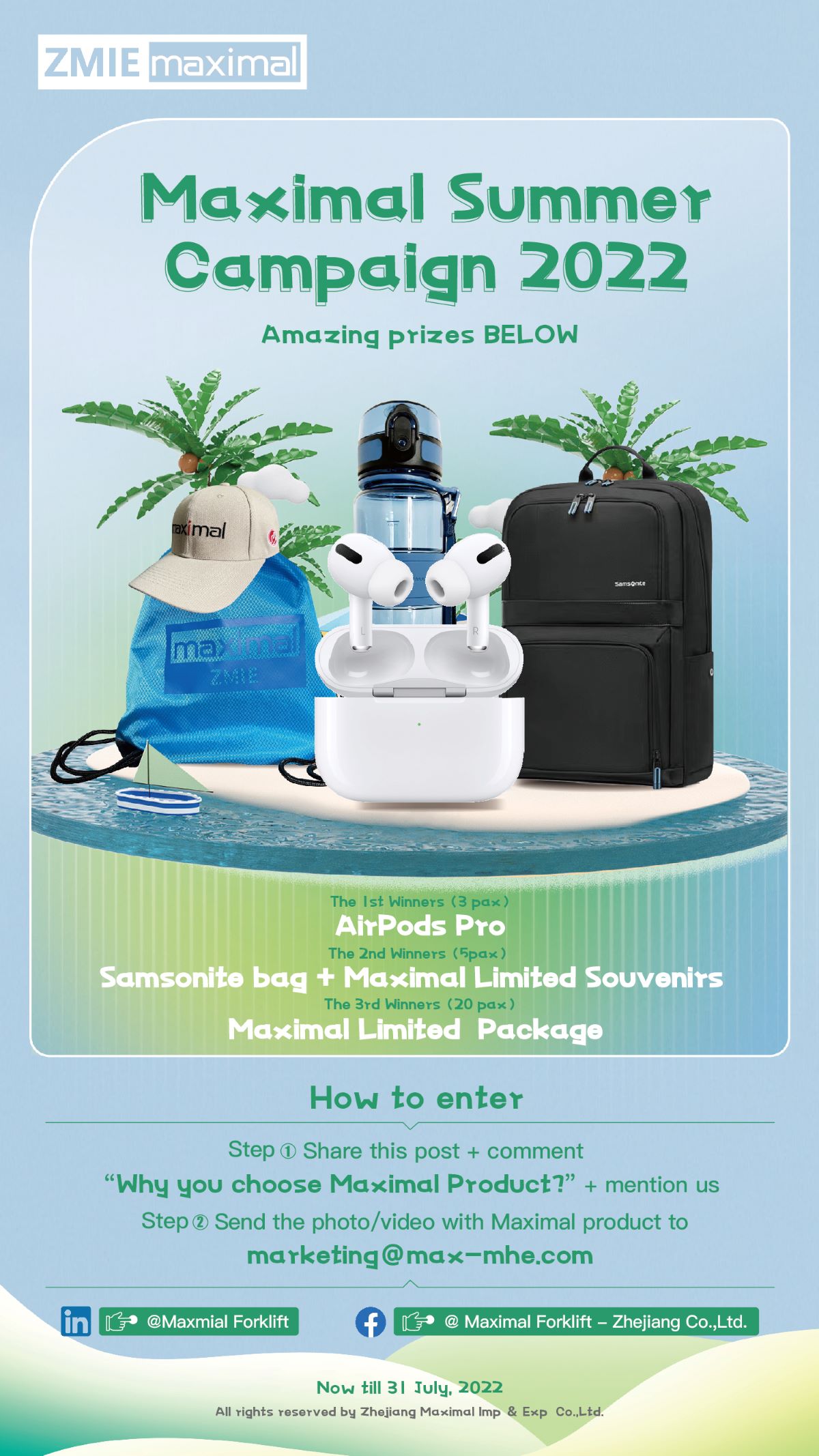 Maximal First Summer Campaign Officially Launched
Maximal FIRST Summer Campaign 2022 officially launched on 22 June, 2022. We bring you a selection of amazing prizes: AirPods Pro, Samsonite bag, Maximal limited souvenirs and more!
✨HOW TO ENTER✨:
STEP1: Share this campaign post and comment "Why you choose Maximal Product?" + mention us (LinkedIn: @Maxmial Forklift
Facebook: @ Maximal Forklift - Zhejiang Co., Ltd.)
STEP2: Send the photo/video with Maximal product to info@max-mhe.com
The campaign will close till 31 July 2022.
HURRY and enter NOW! We are looking forward to receiving your great work!
All rights reserved by Zhejiang Maximal Imp & Exp Co.,Ltd.
Company Activity-Happy Children's Day
"The easiest way to keep the child alive in you is being a lifetime student. Stay Hungry. Stay Foolish. Stay Childish. Happy Children's Day! " Followed by outgoing company activity in June, Maximal Marketing Department organized a company activity theme "Happy Children's Day". We decorated the conference room and had a great time to celebrate the Children' s day together.
Follow us to learn more:
LinkedIn:@Maxmial Forklift
Facebook: @ Maximal Forklift - Zhejiang Co.,Ltd.
WeChat: @MAXFORKLIFT
Industry Insight
China Removes Mark for COVID-hit Regions on Visitors' Travel Code
China has announced that starting 29 June, 2022, the asterisk marking regions with COVID-19 infections removed from the online code tracking visitors' travel history.
The new move has been made to implement the strategy of preventing inbound cases and domestic resurgences, as well as the dynamic zero-COVID policy.
The decision is also aimed at supporting the efficient coordination of epidemic control and socio-economic development, and facilitating travel, said the ministry.
Previously, the asterisk mark would appear on an individual's travel code, indicating that the person's travel history involved an area that was medium- or high-risk for COVID-19.
China's Foreign Trade Sees Positive Changes in Q2: Trade Council
China's foreign trade saw positive changes in the second quarter as the government's pro-growth policies gradually pay off, according to a survey conducted by the China Council for the Promotion of International Trade (CCPIT).
In the second quarter, firms in the foreign trade sector reported improvements in new orders and operation costs. During the period, 25.43% of surveyed firms saw quarter-on-quarter growth in trade volume, and 19.98% and 22.65% respectively reported expansions in profits and new orders.
Relief policies to stabilize foreign trade have proven effective, the survey results showed. For 55.97% of surveyed enterprises, the acceleration of export tax rebates played the biggest role in easing cash strains.
The survey results showed that companies in the foreign trade industry remain optimistic about their development prospects, with 26.22% expecting annual trade volume growth.
With a solid foundation, China's foreign trade will unleash its potential further, and more supportive measures will be rolled out to stabilize foreign trade and promote high-quality development.