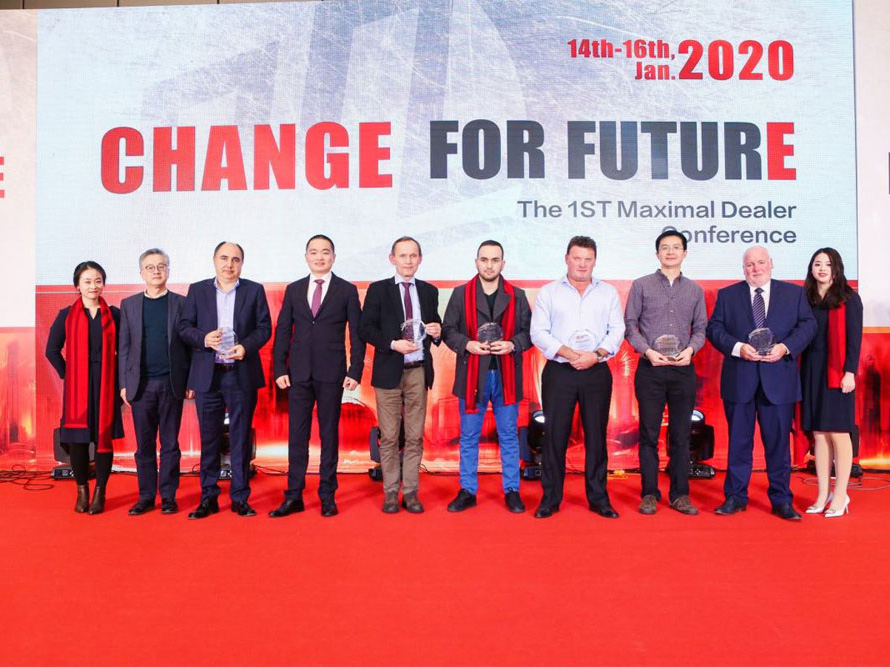 From January 14th to January 16th, 2020, Hyster-Yale Maximal Forklift (Zhejiang) Co., Ltd ( hereinafter referred to as "Maximal" ) holds the 1st Maximal Dealer Conference with the theme of "Change For Future". More than 30 dealers from various countries and regions around the world have attended the conference.
Since the establishment of Maximal in 2006, the number of exports truck has ranked third in the export of Chinese forklift brands. During the development process, Maximal global dealers have made great contributions. In June 2018, Maximal was formally acquired by HYG, experiencing milestones and development.
After a brief welcome speech and introduction, dealers visit Maximal workshops. Maximal intelligent factory, clean and orderly production process, advanced testing laboratory have left a good impression on dealers,which strengthens their confidence in the quality of Maximal products.
The biggest highlight of this conference is the launch of the Maximal A series forklifts in 2020. In order to enable dealers to have a better experience and understanding, we conduct a special "Ride And Drive" activities to truly close interaction between man and forklifts. There are also "Golden Eggs"activities with generous gifts.
During the meeting, Maximal 2020 development plan is also introduced. We hope that by holding this conference, we will share changes and progress with dealers, so that they can understand the current situation and Maximal future development plans well and be more confident in the future cooperation.
Ten years of perseverance with Maximal through thick and thin; ten years of ups and downs with Maximal inseparably; ten years of vicissitudes and changes with Maximal loyally, what remains unchangeable is our dealers' fidelity. In order to better repay dealers and customers' support, we particularly hold an evening party and invite them to participate together. The final chorus and group dance bring the atmosphere of audiences to a climax.
At the same time, during the evening party, in order to recognize the contribution of overseas distributors in promoting Maximal brand and product improvement, we encourage the outstanding distributors with types of awards.
Just as the theme is "Change For Future", today's Maximal has shown milestone changes after the acquisition, highlighting Maximal comprehensive competitiveness, bringing greater confidence and encouragement to dealers and customers. They have expressed that through this conference, they feel the professionalism and strong strength of Maximal, and are full of confidence in the long-term cooperation in the future. After returning as scheduled, they will advertise Maximal brand and new products, and work together with Maximal to join forces and set out.
The 1st Maximal Dealer Conference is successfully finished. Maximal will continue to work hard, make every effort to build Maximal into the most respected forklift brand for customers.