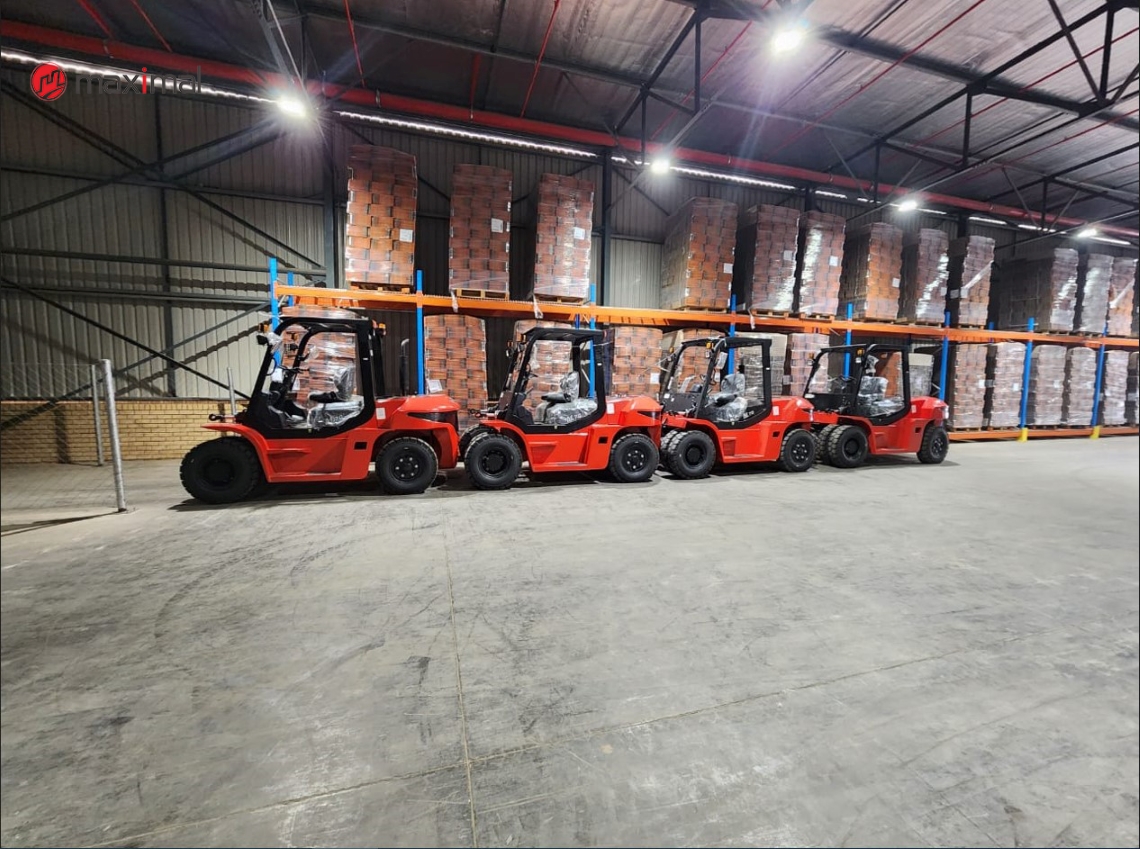 Buyer Show from South Africa

A batch of Maximal 7 Ton forklifts (model: FD70T-MWF3) have recently arrived in South Africa. The client has a very high recognition to Maximal products from the appearance. They were thrilled to share the photos with us.
For over 40 years, Corruseal has been a pioneering manufacturer and supplier of packaging to the South African market.
They also purchased extra attachments (paper roll clamps) for their paper handling and transporting. We also looking forward to seeing photos of them using these attachments in actual application and their feedback. Stay tuned!
Follow us:
LinkedIn: @Maxmial Forklift
Facebook: @ Maximal Forklift -Zhejiang Co.,Ltd.
Maximal Interviewed by Plant & Equipment Magazine
Maximal was recently invited by the Plant & Equipment (Middle East magazine) to discuss the market situation and development trend of forklifts in the Middle East. Maximal Forklift has invested heavily in the development of electric models, and these efforts appear to be paying dividends.
"Technological innovations in forklift trucks, such as electric and lithium-ion battery units, are a huge innovation. The fast-charging capabilities of lithium-ion batteries are significantly reducing the downtime of forklift trucks and improving the overall operational efficiencies of material-handling and warehouse operations," said Julia Ye, Sales Director at Maximal.
Considering the possible recovery of the market and national policies, we are more optimistic about the business in the Middle East in 2023.
The magazine has gone for print and the article is published in January-February 2023 issue.
Please feel free to share on your social media channels as well.
You can also view the article in e-mag on page 28 – 31 here https://www.plantandequipment.news/magazines/january-february-2023-pe-magazine-issue-256/
China reports 3% GDP growth for 2022 as December retail sales, industrial production beat estimates

---
KEY POINTS

China reported 3% GDP growth for 2022, better than the 2.8% forecast in a Reuters poll.

Retail sales in December declined by 1.8% from a year ago, less than the expected 8.6% plunge predicted by a Reuters' poll.

Industrial production rose by 3.6% in 2022. The figure rose by 1.3% in December, well above the 0.2% predicted by the Reuters' poll.
BEIJING — China reported GDP growth for 2022 that beat expectations as December retail sales came in far better than projected.
GDP grew by 3% in 2022, the National Bureau of Statistics said Tuesday. That was better than the 2.8% forecast in a Reuters' poll. The GDP growth number did miss the official target of around 5.5% set in March. In 2021, China's growth had rebounded by 8.4% from just 2.2% growth in 2020.
Fourth-quarter GDP rose by 2.9%, beating expectations from the Reuters' poll of 1.8% growth.
Kang Yi, director of the National Bureau of Statistics, cast China's 3% growth as "relatively fast" in light of unexpected situations and in contrast to Germany, the U.S. and Japan.