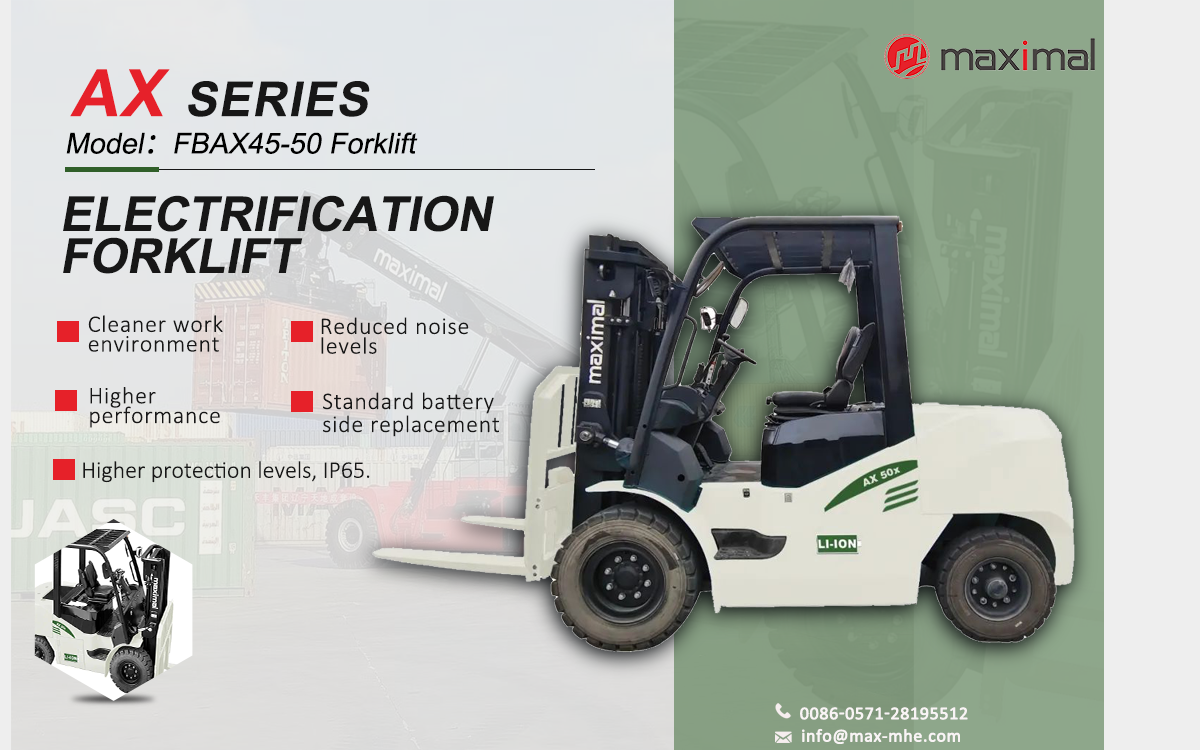 Maximal AX4.5-x5T electrification is available to order now
In response to environmental protection and high efficiency, Maximal recently launched FBAX4.5-x5T electrification. This model will better meet the customer need in different markets and realize the concept of low-carbon and environmental protection.
Main improvements of work efficiency:
✅Standard battery side replacement, which makes replacement faster and more convenient.
✅Low noise electronic water pump (less than 50dB), the service life can reach more than 20,000 hours.
✅The customized motor cover adopts water cooling (temperature controlled below 60℃) to achieve thermal balance
✅Intelligent electronic fan, which automatically turns on and off according to temperature, with a service life of over 50,000 hours.
Good points to meet multi-work applications:
✅Wide-view mast to increase visibility and the safety of operation.
✅The gear pump adopts a special helical rotor to reduce the output pressure.
✅FEA finite element analysis and design to provide vehicle stability.
✅Permanent magnet synchronous motor (protection level IP65) to withstand harsh operation environment, and the highest efficiency can reach 95%.
Maximal distributer attended Expo Malocas
Maximal distributor recently attended Expo Malocas 2022 in Columbia from 28 March to 3 April, 2022 to help promote Maximal brand.The Expo Malocas provides imported machinery of excellent quality, promoting the economic reactivation of different productive sectors.
Shanghai Covid-19 Lockdown Threatens New Export Delays
A shortage of trucks to haul containers from the port is impeding the clearance of imports.
PHOTO by REUTERS
Shanghai has been under lockdown for close to four weeks, having recorded over 35,000 Covid cases since March. The lockdown, which began in mid-March, have nearly doubled the number of container ships loitering off the country' s coast. As of April 19, it recorded 506 vessels awaiting berthing space at Chinese docks, up 195% from the 260 halted offshore in February.
Before the lockdowns started, congestion at China's ports accounted for only 14.8% of the global container backlog, versus roughly one-third now. Shanghai port authorities claim that the port is operating normally and has suffered zero delays thanks to a closed loop system keeping staff on-site, despite numerous shipping analytics firms providing data to the contrary.
Beyond the port of Shanghai, restrictions on cross-border trucking and movement throughout the city have prevented workers from off-loading and on-boarding shipping containers. The lack of drivers and other workers means getting goods in and out is increasingly hard.
About Electrification Forklift
✅Reduced fuel costs have a cumulative effect on total cost of ownership.
Despite the higher acquisition cost, your initial investment will allow you to enjoy the long-term benefits of reduced fuel costs, and in turn a lower total cost of ownership (TCO).
✅Less wearing parts
Electric forklifts are easier to maintain than their diesel counterparts. This makes servicing quick and maximizing uptime. Electric forklifts also have less wearing parts than diesel trucks, and the associated issues tend to be minor and easily fixed.
✅Lower price
With same forklift frame and axle as diesel forklift, the cost of electrification forklift will be lower than a real Li-ion forklift. For EU and NA market, the engine emission requirement becoming stricter (need EUV and EPA engine), which leads that the cost of EUV & EPA engines is higher than an electrification forklift even.
✅Higher performance
Electrification forklift has similar performance as diesel forklift on ground clearance, gradeability, travel speed, lowering and lifting speed. It can perfom well both indoors and outdoors (All weather).
✅Reduced noise levels
Electric trucks are quieter to operate compared to ICE trucks and therefore minimize disturbance. Less noise will also have a positive impact on operator safety and efficiency, improving visibility and reducing the likelihood of forklift accidents.
✅Cleaner work environment
Switching from diesel and LPG trucks to electric forklifts will help to promote a cleaner, healthier work environment for employees, which will have a positive knock-on effect on warehouse productivity.
Maximal AX4.5-x5T electrification is available to order now. Please feel free to contact us for more product information.
Follow us:
LinkedIn:@Maxmial Forklift
Facebook: @ Maximal Forklift - Zhejiang Co.,Ltd.
WeChat: @MAXFORKLIFT