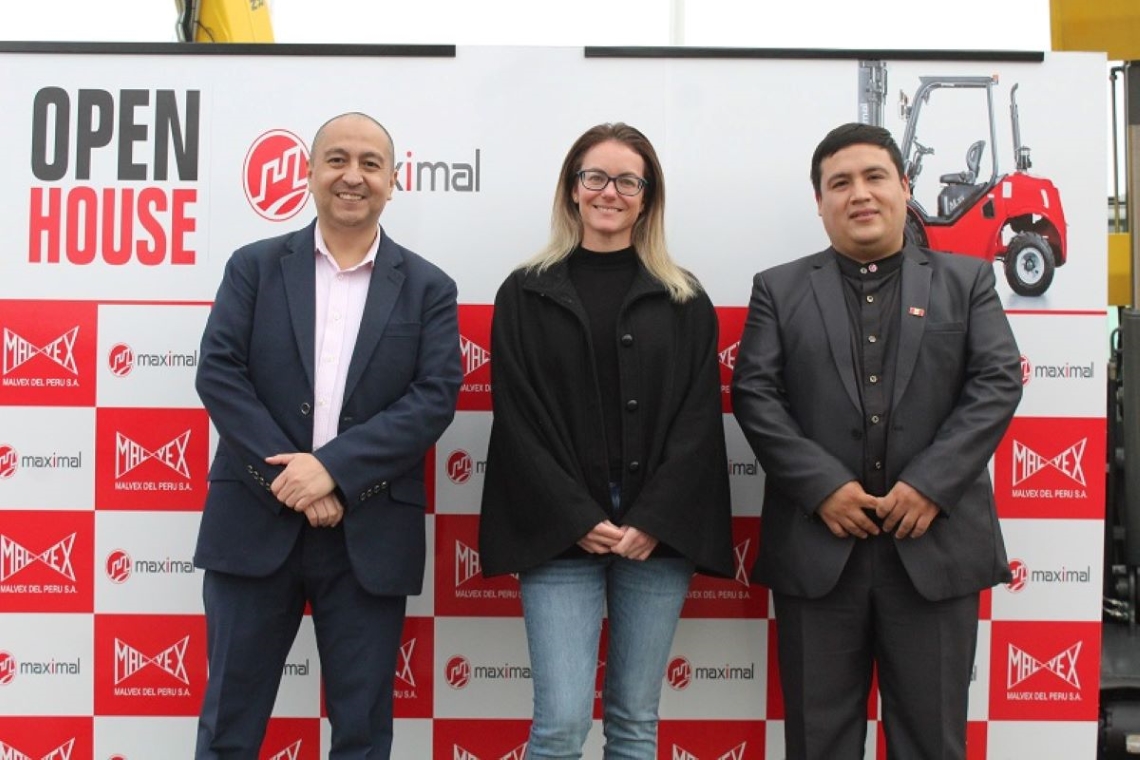 Dealer News: Open the doors of its Headquarters Located in Lurín
Malvex opened the doors of its headquarters located in Lurín (Megacentro) to its clients from agribusiness, trade and transportation sectors. In this event where the line of equipment for cargo movement and logistics solutions for warehouses, with the Maximal brand, was officially presented.
"Maximal is committed to sustainable energy, which is why we are committed to li-ion battery forklift. Sustainable technology is the future, and we have a wide range of Lithium equipment, precisely the ones we are exhibiting at the Open House. Li-ion battery forklift, unlike conventional forklifts, is fast-charging (maximum 2-hour charging time), and you can also recharge the battery in downtime (like a mobile phone); unlike a normal battery that charges in 8 hours, in a single moment, guaranteeing maximum productivity for our customers."
Many clients such as from agriculture, retail, fishing, brewing sector are familiar with our products under the Stocka and Malvex economic brands. Now with Maximal, we hope to make the brand known for the quality and technology it offers.
The Malvex Open House offered significant discounts for the purchase of equipment, spare parts, maintenance, and forklift miniature models, which are highly valued by customers.
Malvex del Perú has 56 years of experience, thanks to the trust by clients. It is one of the pioneering companies in Peru selling cargo handling and lifting equipment, having successfully introduced Stocka brand hydraulic pallet trucks, as well as Hiab brand hydraulic cranes, maintaining an uninterrupted alliance with the factory since 1970, as the leadership in Peru.
Winner Announcement of Maximal Summer Campaign
Maximal FIRST Summer Campaign 2022 is officially finished. A total of three winners (two winners in Vietnam and one winner in Burkina Faso) were lucky enough to receive our prizes! Congratulation to them. We will also launch new events, stay tuned!
Follow us to learn more:
LinkedIn: @Maxmial Forklift
Facebook: @ Maximal Forklift - Zhejiang Co.,Ltd.
WeChat: @MAXFORKLIFT
Industry Insight
Data and Profiles - Market Profiles - Mainland China
Economic and Trade Information on China
Latest development
In the second quarter of 2022, China's real GDP grew by 0.4% (year-on-year).

Added-value industrial output increased by 3.8% in July 2022, down from 3.9% in June 2022 (year-on-year).

Fixed assets investment increased by 5.7% (year-on-year) Jan – Jul 2022, down from 6.1% in Jan-Jun 2022 (year-on-year).

In July 2022, retail sales increased by 2.7% (year-on-year).

Inflation increased by 2.7% in July 2022, with food prices up by 6.3% and non-food prices up by 1.9%.

In July 2022, exports (in terms of US$) increased by 18%, while imports (in terms of US$) increased by 2.3%, resulting in a trade surplus of US$101.3 billion.

The Manufacturing Purchasing Managers' Index down from 50.2 in June 2022 to 49 in July 2022.