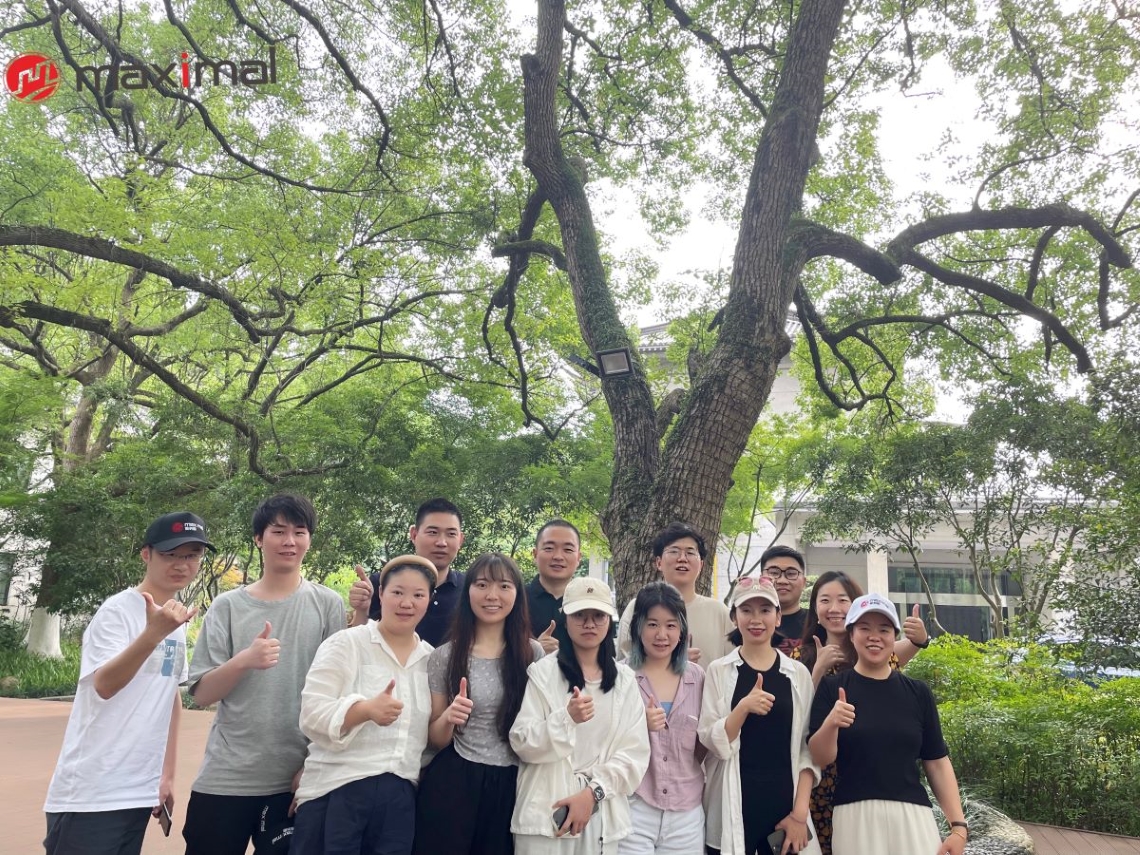 Company Outgoing Activity- Let's Explore the Beauty of Nature
Hangzhou is one of the best cities, where nature and modernity are well integrated. As an energetic company, Maximal Marketing Department recently organized a company outgoing activity to get close to the nature. Get out of the office and have lots of fun and unwind. In this year, we will periodically organize several interesting activities to balance staff work and life.

Follow us to learn more:
LinkedIn: @Maxmial Forklift
Facebook: @ Maximal Forklift - Zhejiang Co.,Ltd.
WeChat: @MAXFORKLIFT
Maximal Buyer Show Photo
Maximal A series Li-ion battery electric forklift enables continuous availability of operation, particularly efficient in multi-shift applications. It significantly reduces the downtime due to no battery changing, typically for multi-shifts environment.
Maximal AX4.5-x5T Electrification Forklift Poster Launched
Maximal were excited to launch AX4.5-x5T Electrification Forklift recently.
The electrification forklift is improved in several key components, including travel motor, hydraulic motor, PM controller, water-cooling system and side extraction battery, which greatly enhance the performance and the working efficiency (see below photo).
Freight Rates Drop as Covid-19 Controls Slow Export Growth
China's exports and imports struggled in April as worsening Covid outbreaks cut demand, undermined production and disrupted logistics in the world's second-largest economy.
Strict zero-Covid controls have slowed China's export momentum in recent months, with cargo volumes from the world's No.2 economy continuing to slide over May.
Although daily coronavirus cases have dropped to one tenth of their peak level in Shanghai, and some factories have resumed production, restrictions in many parts of the city are tightening. Manufacturing and trucking capacity has been restrained and there has been a significant drop in the availability of goods and port output.
Shanghai Port, the world's largest port in terms of container throughput and a major gateway for goods produced in nearby manufacturing hubs, has remained operational since the lockdown began in April, but export volume has been shifted to the nearby Ningbo Port.
Overview of Economic and Trade Information on China
Exports in dollar terms grew 3.9% in April from a year earlier, dropping sharply from the 14.7% growth reported in March although slightly better than analysts' forecast of 3.2%.

According to the HKTDC recent research and data show the latest development include:
1. In the first quarter of 2022, China's real GDP grew by 4.8%.
2. Added-value industrial output dropped by 2.9% in April 2022, growth in March 2022 was 5.0% (year-on-year).
3. In Apr 2022, retail sales dropped by 11.1% (year-on-year).
4. Inflation increased by 2.1% in April 2022, with food prices up by 1.9% and non-food prices up by 2.2%.
5. In April 2022, exports (in terms of US$) increased by 3.9%, while imports (in terms of US$) had no change, resulting in a trade surplus of US$51.1billion.
The global economy continues to struggle in the pandemic, and so is the forklifts industry. Due to several effective policies such as "dynamic zero COVID-19", China as the world's largest forklift manufacturer and seller has kept its dominant position worldwide.
From the perspective of the international market, the proportion of exports has continued to rise especially in 2021, the export sales volume has increased by 73.82% over the same period, and the growth of export sales volume is greater than the growth of domestic sales volume.